You won't struggle to teach this Primary song with all these fun Follow the Prophet Singing Time Ideas!
You'll see below flip charts and 30 unique ideas that are from my blog and other favorite ideas from around the web with tons of different activities to help you jump in for any music leader teaching Follow the Prophet in Primary and as you prepare for the Primary program!
Follow the Prophet is one of my suggested songs to teach as part of the Old Testament Come Follow Me song lists. I would include either this song title or We Thank Thee O God for a Prophet as we learn about so many ancient and Latter-day prophets this year!
Follow the Prophet Flip Charts
Head over to grab your choice of Follow the Prophet flip chart style including a fun colorful version or a simple black and white option for a lyrics book and even a slideshow! It'll be a great resource to have on hand and even includes a new verse for President Nelson! Plus, all the song lyrics for all the verses from the first to the last verse, if you need a refresher.
This song is included in the Children's Songbook on page #110. You can find printable sheet music on the Church of Jesus Christ of Latter-day Saints website here.
8 Follow the Prophet Singing Time Ideas
We'll get started first with direct links to all the singing time ideas here on my blog. I've shared tons of activities here on this website and you'll be able to easily find each of those activities from this list below. Then, there are a lot of fun ideas after that!
1. Follow the Prophet – Personalized License Plates
Work through your choice of verses with these personalized Follow the Prophet License Plates! There's a variety of ways to use it with coloring in creative plates with a scene for each prophet or roll and match with which prophet verse to teach! You could even use this cute idea before General Conference or as a sharing time type lesson about each prophet.
2. Follow the Prophet – Guest Prophet
Bring guests up to the front of the room to be each of the prophets and share a little bit of their story with this fun Follow the Prophet Guest Prophet singing time idea. You can have each focus on one whole verse, then transition to the next guest and their verse!
3. Follow the Prophet – Riddles
Have some fun with the older children in primary with these Follow the Prophet Riddles! See if the Primary children can guess which prophet you're talking about with unique riddles and then the Primary sing their verse! This would make a great review activity and challenge.
4. Follow the Prophet – Matching Activity
Use this printable Follow the Prophet Matching Activity to help the Primary kids sort out which prophet pictures go with which prophet and test how well they've learned each of the verses or teach them new verses as you go! You could then throw in a sign language sign to represent each prophet match or maybe their key gospel principle to help the kids remember what lesson each teaches.
5. Follow the Prophet – Treasure Hunt
The kids will love doing something a little different with this Follow the Prophet Treasure Hunt with ideas for taking it outdoors! Great if you have a beautiful day and a small Primary. Or, stay indoors and go on a treasure hunt around the Primary room while learning about the Old Testament prophets!
6. Follow the Prophet – Listen & Sing
Take turns singing (and listening) with this engaging and no-prep Follow the Prophet Listen & Sing activity! It's a great way to incorporate echo singing in a unique and fun way the kids will love with adorable song visuals to help!
7. Follow the Prophet – Word Swap
Cross off the silly word in each phrase and find the correct one in the word bank with this Follow the Prophet Word Swap singing time the kids will love! Write these phrases up on a big poster board or even on power point presentations so everyone can see the silly phrases! It's a fun twist on a classic eraser pass game.
8. Follow the Prophet – Drum Pattern
The kids will be in HEAVEN making all this fun ruckus by following along to this Follow the Prophet Drum Patterns! You can use actual drums, popsicle sticks, or just grab hymn books and pencils and that will work, too. The different color words will help the children follow along, even for younger children.
22 MORE Different Ways to Teach Follow the Prophet
I've gathered a whole bunch of varied and fun ways to teach this song created by other Primary Music Leaders (Primary Chorister). I can't wait to hear as well your own ideas and adaptions for how you taught this song!
1. Follow the Prophet – Posters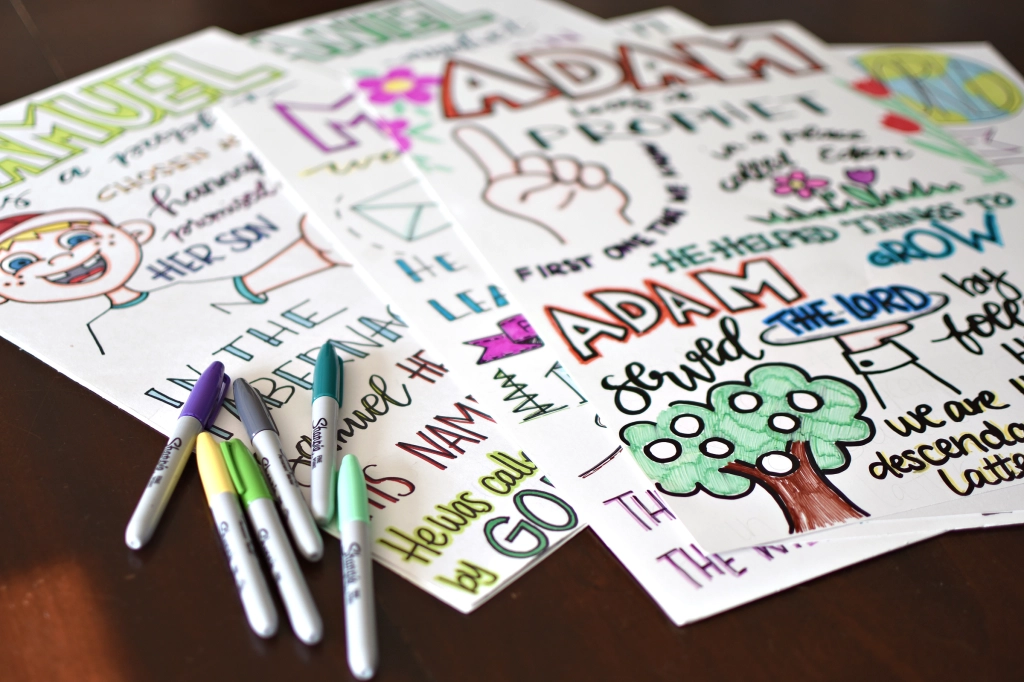 2. Follow the Prophet – Listen to the Right Voices
See this inspiring video with a conference talk woven in about following the prophet. It's a story about young hikers that get lost in the woods and some who turn to prayer and find the right way back to safety.
Here are two gem quotes from the video I really loved! "Following the prophet is always right!"
"The words of the prophets are like manna to our souls, when we partake we are blessed, protected and preserved both temporally and spiritually."
3. Follow the Prophet – Wiggle Cards
Use a cute wiggle action to represent each of the prophet verses! This clever activity comes from the Hubbards Cupboard blog here.
4. Follow the Prophet – Cutout Posters
This next post shares adorable Follow the Prophet cut-out posters. She has images of each of the posters for the different verses that you can use for inspiration! You could even get the older kids involved or recruit the activity days kiddos to help you color in or draw the cutout posters!
Or, try these Prophet Faces cutouts from Grandma's Music.
5. Follow the Prophet – Draw the Song
This is a cute and simple way to work on a variety of different verses to teach Follow the Prophet! Sharla demonstrates how to draw the song for Adam, but you could use it for any verse! I love this idea for nephi verse as they journey to the promised land!
6. Follow the Prophet – Noah was a Prophet
You'll love this idea for teaching the verse about Noah! Each of the raindrops represents a fun trivia question to ask the kids while adding in lots of singing repetition and a darling themed activity. It's the best way to teach each different verse with a specific themed activity and different ways for each! Head over to see the full singing time idea over on Living the Super Life.
You could also adapt this idea to add a themed trivia game for other prophets like leaves for Adam, a bunch of lions for Daniel, or a picture of the plagues for Moses.
7. Follow the Prophet – History of the Song
This video is SO cute from the music writer of this song sharing how he came up with this song and some of the requirements he had to try to make it fit what he felt the song should represent.
8. Follow the Prophet – Hand Actions
Follow along with this hand clapping and actions video! She covers ALL of the verses! I recommend just using these actions for one of the verses and teaching other verses with a different activity.
9. Prophet Scrolls (Arizona Forever)
10. Partner Body Rhythm (YouTube)
11. Patsch-Cross Pattern (YouTube)
12. Messianic Dance Steps (YouTube)
13. Swish and Tap (YouTube)
14. Movement Pattern (YouTube)
15. Action Words for Daniel Verse (YouTube)
16. Role Play for Adam Verse (Teaching Primary Music)
17. Muppets Singing (YouTube)
18. Paper Cup Pattern (YouTube)
19. Paper Plates Pattern Start at 4:20 (YouTube)
20. Word Stomp Start at 7:51 (YouTube)
21. Follow the Leader (YouTube)
22. Follow the Prophet Maori Sticks (YouTube)
–> Pin or Bookmark This Post <–
What other fun ways and ideas do you have for teaching Follow the Prophet in Singing Time?