I was brainstorming ideas for I Am a Child of God and thought mini solos would be such a cute theme for this song as it's all about knowing our individual worth as Children of God! When I was ready to sit down to craft out the lesson plan, though, everything clicked into place.
I remembered I used to hold a mirror as I sang I Am a Child of God in nursery and it was absolutely PERFECT! So, with a slightly new direction I have this fun themed activity that I think is such a beautiful fit for teaching I Am a Child of God to the children.
Affiliate links are included in this post.
I Am a Child of God Mirror Pass
This cute idea is a fun spin-off of our Singing Bee review activity. It lets you get a whole bunch of children involved and showing off their knowledge of singing I Am a Child of God. Such a great way to see how well the children know the song and reinforce the concept that they as individuals are a child of God and important in his eyes.
How to Make an I Am a Child of God Mirror:
These couple of pictures I am sharing in this post come from my original post on my parenting blog with Nursery Singing Time ideas! It's a really awesome post with a ton of good ideas. I wrote it before I started this blog specifically for Primary Singing Time ideas. I highly recommend you visit that post as well.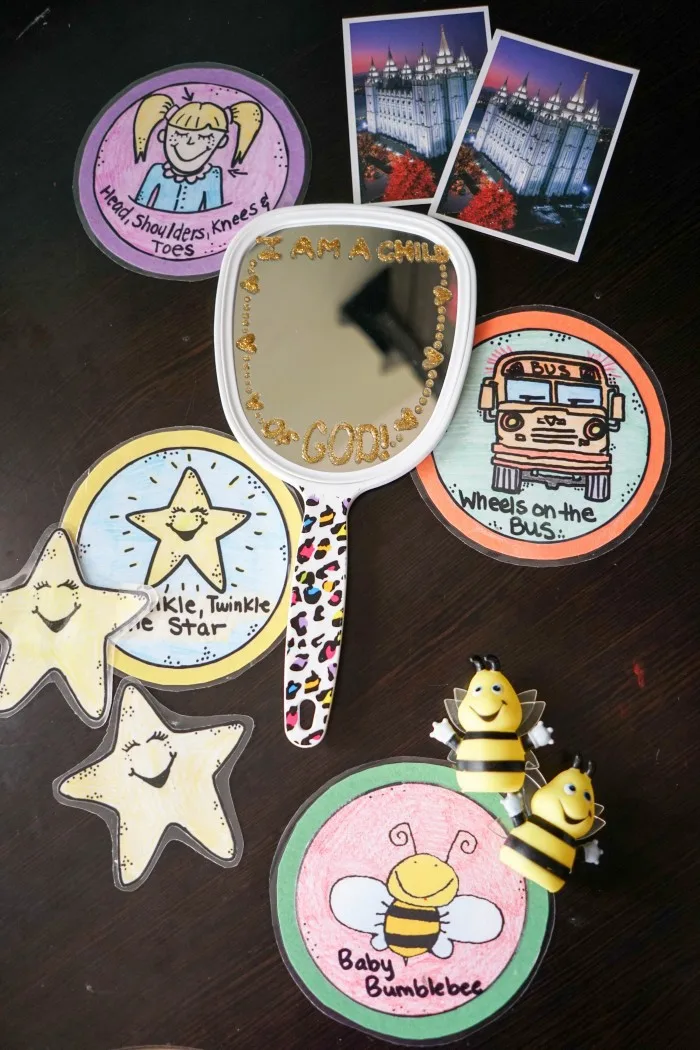 Because of that, I unfortunately no longer have the mirror I donated it to my nursery kiddos when I was released. And I don't have any in process pictures, but it's super easy to make the mirror!
I just went to the dollar store and picked up an inexpensive mirror. Then, I grabbed some gold puff paint and wrote out the words on the actual glass itself. Make sure you give the puff paint PLENTLY of time to dry, it took a little longer than I expected.
I didn't have any problems with the paint coming off once dry, though, and it looked fantastic! Or, you can always use my printable mirror cards instead!
How to Play:
Sing through I Am a Child of God (flip chart) once before introducing the activity. Then, bring out your mirror, or the mirror printable prop below.
Start to sing a solo of I Am a Child of God, while looking in the mirror. Then, freeze suddenly like you just remembered where you are. Oh, children! I brought in a mirror today and thought we could play a little sing along game. Who wants to help?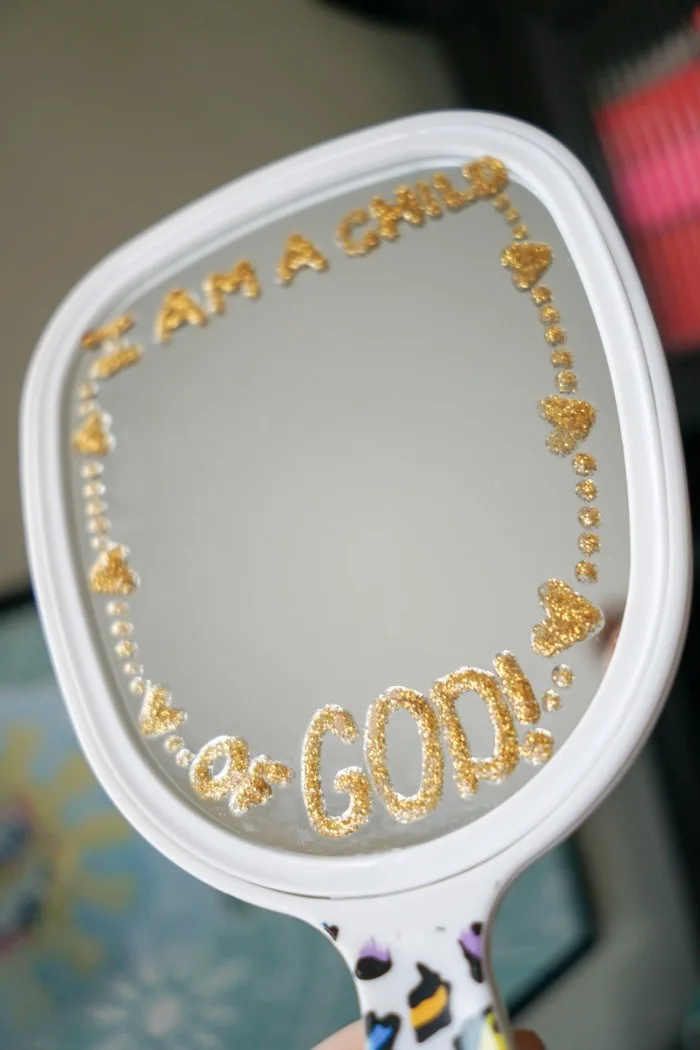 Have 4 children come up front at a time. Explain that the children will sing one line of the song as a solo (with your help or the Primary's help if they request it), into the mirror, then pass the mirror to the next child in the line.
When you get the chorus, then rest of the Primary sings to the children up front. Then, repeat with new volunteers.
Now, let's try a harder challenge. Can you sing just 2 words, then pass the mirror? (I am – a child – of God – and he – has sent – me here…)
Instead of passing it back to the start you can have the first child run behind the singers to the back of the line, and continue doing so through the words of the verse. Or, simply pass from end back to the middle, and repeat those middle children with extra singing opportunities.
Share your testimony (or have 2-3 children share their testimony) of this simple truth!
Extension Activities:
Solos – Let the children take turns singing I Am a Child of God as a soloist. They can sing by themselves or bring up a friend and pick their favorite verse to sing. Hold the mirror like a microphone!
Mirrors for Everyone – Have all the children hold up an imaginary (or real or printed) mirror. Sing through the entire song together. There's this really cute set of individual mini mirrors on Amazon for a pretty good price.
Self Portrait – Take 1-2 minutes to have the children draw a self portrait inside the image of the mirror below. Write on the handle or the blue outside mirror frame one way they know they are a child of God. Then, they can show their picture between each time you sing through the song and share their way they know they are a child of God!
Challenge Mirror Pass – As an extended challenge for Senior primary, after trying the first two ways above, have the children stand in their rows and sing just one (or still 2) words and pass the mirror to the next friend in their row.
There are 23 words in the first verse so in most cases you should be able to include all the children! For larger Primary groups, just include the chorus. For smaller Primary groups, use 2 or 3 words before passing (also a little less chaotic!)
I Am a Child of God Mirror Pass Printables
This simple printable includes a large 1-page printable mirror and a second page with 4 smaller printable mirrors. Of course, they won't actually function as a mirror, but they'll add the concept and kids are great at imagination!
If you're planning to use the large mirror printable, I highly recommend you print it out on cardstock, and then laminate it. I've had my Scotch brand laminator for more than 15 years and it's still going strong! That will help it hold up so much better for being passed around, will be much sturdier to hold, and will make it easy to wipe clean.
You can even grab some dry or wet erase marker to have the kids draw right on the mirror for the personalization extension activity if you have a tiny Primary!
To access the free in-post printables for this post, you'll just need to create a free account or login with the Grow.me tool. Then, confirm by email and refresh the page and ALL my free printables will automatically unlock in every post!
For more information on why I use a content lock or how to create your account, you can see the FAQ page here.
Head over next to grab this I Am a Child of God Piano Solo singing time idea! It's a perfect way to bring the spirit into the Primary room playing a beautiful alternate arrangement or having one of your Primary children play the music for the class!
What other fun extension ideas could you add for this cute I Am a Child of God Mirror Pass game?
This post may also be available in:
English
Español
Join INSTANT Primary Singing today for immediate access to monthly printable singing time ideas!