Get started teaching with these Search Ponder and Pray singing time ideas that will help make it a cinch!
Search, Ponder and Pray is my song pick for November. I love this song and feel it really speaks to the message this year with the new Come, Follow Me manual to really study and ponder the scriptures, instead of just read them.
With this being part of or focus this year, I started teaching Search, Ponder and Pray in January as one of my Primary songs.
I rotate my program songs all year with a couple songs as the focus each month, which gives us tons of time to learn all the different songs and no real "review" needed since they stay fresh in our minds!
Affiliate links are included in this post.
Search Ponder and Pray Teaching Packet
Jump right in with teaching this song with these 7 full teaching activities and 2 bonus printable aids to help you bring a variety of fun and engaging ways to teach this song to your Primary children. This packet includes all of the extended printables that coordinate with the teaching aids to help you make the most of these lesson plans!
You can pick up this teaching packet for Search Ponder and Pray in my shop. It is also available in my Etsy shop here.
Search Ponder and Pray Flip Charts
A perfect first resource to start with, make sure you grab our Search Ponder and Pray flip chart! It can help you as needed introduce the song, and then let's jump right into these fun lesson plans with ease.
This song is included in the Children's Songbook page #109. You can find the sheet music on the Church of Jesus Christ of Latter-day saints website here.
How do I teach Search Ponder and Pray?
An easy first way to teach Search Ponder and Pray is with action words. You'll create a simple action to represent the lyrics of the song or follow my actions as you sing through the song.
Next, try using the picture swap activity to connect the song lyrics in a meaningful way with lots of repetition. A Melody Map is another really engaging way to teach the melody and it's connection to the lyrics! You can use any of these ideas below to teach this song with meaning.
11 Search Ponder and Pray Singing Time Ideas
This post will help you find all of my Search Ponder and Pray teaching ideas around this blog. Plus, I'm also sharing additional favorite lesson plans from other Primary music leaders at the end of this post!
1. Search Ponder and Pray – Directional Marching
Throw in some movement with a fun arrow to help direct the Primary children marching around the room! You'll go a'searching with this movement idea!
Start off first by marching in place through the song.
Now, switch and try marching turning right after each line of the song. (There are 4 lines for each verse and 4 lines for the chorus, so you'll end up facing the front).
Now, try marching around the room in one big circle with everyone marching together. For fun, you can also let a child help lead the directions and switch the right way you march, as everyone marches to the right or to the left!
Head over to our We'll Bring the World His Truth Directional Marching lesson plan to grab the free printable arrow and see more ways to use this idea.
2. Search Ponder and Pray – Melody Chart
Showcase the melody for Search, Ponder, and Pray with this engaging Melody Chart! Each note is represented with colors to help draw logical conclusions. See how the notes move through the song and look for patterns and the different color dots, too. You can print mine or copy it onto a large poster board if you need it even bigger.
3. Search Ponder and Pray – Guest Performance
A great way to add a meaningful experience with Search Ponder and Pray in your Primary is to invite a guest (or a group) to come in and sing the song to your Primary.
You could ask the Young Women or the Young Men or have a sister or two come in! The Older children will love the change of pace and give them motivation to sing the song just like the guest that they know and love.
4. Search Ponder and Pray – Scripture Hunt
This one is fun and unique and will get the Senior Primary kids personally invested in the song and activity! You'll go on a "bear hunt" which we'll call a scripture study hunt again. In this Search Ponder and Pray Scripture Hunt you'll play a unique version of that classic song with a fun twist just for Primary!
5. Search Ponder and Pray – Action Words
Depict Search Ponder and Pray through simple actions to help them learn and remember the words! You can even use a printable chart of simple icons to represent the actions to help your visual learners remember what's next!
6. Search Ponder and Pray – Team Patterns
The kids will love getting hands on and taking charge of the lesson with this fun Search Ponder and Pray Team Patterns singing time activity!
Just break the kids into two groups and let one side come up with a paper plates pattern and the other side come up with a sand blocks pattern – then teach the other side and sign and follow along with 2 fun and unique patterns!
7. Search Ponder and Pray – Picture Swap
This fun game will have the kids pick any 2 pictures to swap, and rearrange the out of order picture cards until they're all back in the correct order! Includes additional fun way to use this Search Ponder and Pray Picture Swap activity.
8. Search Ponder and Pray – Word Search
I think a fun Search Ponder and Pray Word Search is just the perfect activity to use to correlate with the lyrics of this song! Can they find some of the words from this song hidden in the word search?
You can then add in a fun action for any "found" words or skip singing them!
9. Search Ponder and Pray – Feel the Spirit
The younger children will love getting hands on with this spiritual connection lesson plan that also dives into using their senses and making thoughtful connections with everyday objects and these song visuals to relate how we Feel the Spirit as you teach Search Ponder and Pray! You can even weave in a sweet story for the Junior Primary with pictures of Jesus at the end.
10. Search Ponder and Pray – Crossword Puzzle
For a great challenge the Primary kids will love, use this Search Ponder and Pray Crossword Puzzle! You'll use the clues and the song lyrics to help decode all the missing words in this crossword puzzle while adding in lots of song repetition with purpose!
11. Search Ponder and Pray – Traffic Light
Create a simple poster with a traffic light. Just draw a red circle on top, then a yellow circle, and finally a green circle on the bottom. Add the letters S, P, and then P from top to bottom.
You can then teach the kids to STOP when you have a problem and SEARCH the scriptures.

SLOW

down after you read the scripture to

PONDER

what they might be teaching you.
Finally, it's time to

GO

and

PRAY

about your questions and seek answers!
Head here to see the original idea by Cami in the Facebook group!
I created a cute printable handout and poster you can use in Primary!
15 More Different Ways to Teach Search Ponder and Pray
Check out even MORE fun ideas to teach this song created by Primary music leader (and Primary chorister) song helps and visual aids.
1. Search Ponder and Pray – Hand Bells
Pull out your hand bells and have a great time interacting with this song with the fun Merry Bells Play Along videos or their printable hand bell charts! This song is included in their Primary Songs Set #1 collection. Use the promo code PrimarySinging to save 10% off any purchase.
2. Search Ponder and Pray – Sing-Along Poster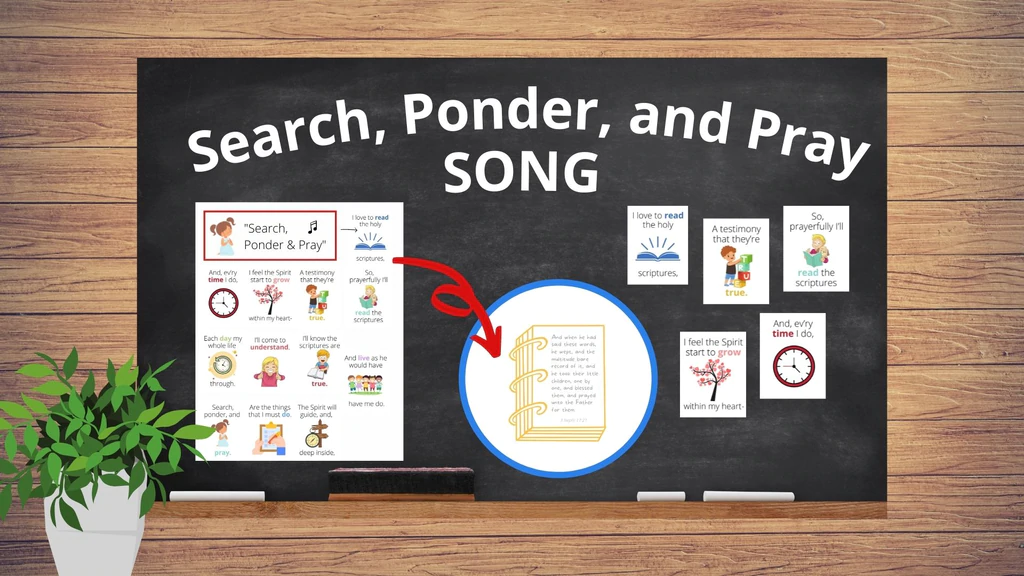 This is a really cute option if you're looking for something to send home with the kiddos to practice the song at home. Grab the Sing-Along Printable by MTC for Kids to teach Search Ponder and Pray! You can use the in-Primary poster and scripture hunt, and then send the kids home with their own poster.
3. Search Ponder and Pray – Action Words
My Primary always LOVES using hand actions! Sharla came up with these fun and easy signs you can learn to teach simple actions for Search Ponder and Pray! Head over to her post to grab the printables and see all the actions.
4. Search Ponder and Pray – Rhythm Sticks
If you're looking to hit on the beat of this song, here's a great Rhythm Sticks Pattern on YouTube.
5. Alternate Rhythm Sticks Pattern (Facebook Group)
6. Search Ponder and Pray Song Story (Sharla Dance)
7. Pop Quiz (fill in the blank) (Facebook Group)
8. ASL Sign Language & Actions (YouTube)
9. Yoga Poses (YouTube)
10. Scriptures & Actions (YouTube)
11. Build a Snowman (YouTube)
12. Hand Clapping Pattern (YouTube)
13. Picture Clues (YouTube)
14. First Letter Path (YouTube)
15. 3 Questions (YouTube)
16. Find the Sign (YouTube)
17. Crack the Color Code (Sharla Dance)
18. Paper Plates Pattern (Sharla Dance)
19. Melody Map (Teaching Primary Music)
What other ways will you be teaching Search, Ponder and Pray this year?