You're going to love all of these unique and varied A Child's Prayer Singing Time Ideas. There's something for everyone with lots of ways to teach this song in Primary.
I used a variety of Primary songs Music learning styles to help reach all of the Primary children while teaching A Child's Prayer. There's meaningful videos, a fun song story, a picture puzzle that weaves in both verses, fun emoji actions and many more!
This isn't exactly a simple song to teach, but you can get the teachers involved in singing the 2nd verse and it makes for an absolutely beautiful song when the voices all come together. (Or, use it with a youth choir and adult members of the choir singing the 2 parts!)
Affiliate links are included in this post.
7 A Child's Prayer Teaching Ideas Packet
Score my 7 most popular ways to teach A Child's Prayer with extended bonus printables in one easy to use teaching packet in my shop! Or, you can purchase the printable on my Etsy shop here.
A Child's Prayer Flip Charts
Before we jump in with all these fun ways to teach this song, I thought I'd share my A Child's Prayer flip chart! I always have one on hand, just in case. It's great to use the first few weeks when introducing the song or if you have a visitor with you so they can join in singing along!
This song is included in the Children's Songbook on page #12. You can find the sheet music on the Church of Jesus Christ of Latter-day Saints website here.
8 A Child's Prayer Singing Time Ideas
First you'll find the entire collection of all the lesson plans and ideas I have shared here on this blog! There's so many ways to help you teach this as your next song with both older and younger kids!
1. A Child's Prayers – Egg Shakers
We're going BIG with this one, but don't worry, you'll be able to keep up! I've included 6 simple A Child's Prayer egg shaker patterns! Start with a mix of your choice of the four simple patterns, then up the challenge with two harder patterns to try!
2. A Child's Prayer – Cupid's Shuffle Dance
Everyone will love getting up and moving with this simple dance routine activity! Head over to see our A Child's Prayer Cupid's Shuffle Dance steps singing time idea.
3. A Child's Prayer – Simple Actions
These adorable emoji action strips will help the kids really remember and recall the lyrics. It's a fun way to add movement that's meaningful and that teach the words! Head over to see our A Child's Prayer Simple Actions singing time. Actions are always a super helpful tool for helping Junior Primary learn a new song!
4. A Child's Prayer – Song Lyrics Trivia
This singing time idea will have you rehearsing and discussing the lyrics in a fun trivia style with lots and lots of song repetition! Head over to grab our A Child's Prayer Song Lyrics Trivia game here! It's a great option for engaging older kids and diving in deeper into the meaning of the words!
5. A Child's Prayer – Picture Puzzle
Use this interactive picture puzzle activity for either the first verse, second verse, or both verses combined! You'll put the picture back together and reveal a scene! Then, flip over the poster to magically have the other verse in the correct order, too in this A Child's Prayer Picture Puzzle singing time idea.
I highly recommend using a thick card stock paper when printing this one that will make it easier for younger children to handle and match the song visuals.
6. A Child's Prayer – Song Story
I created a story about Susie and her missing cat. Susie turns to prayer and finds the comfort from a loving Savior. The A Child's Prayer Song Story weaves in the lyrics of the first verse of A Child's Prayer.
7. A Child's Prayer – Team Band
Get all the kids involved with this fun A Child's Prayer Team Band singing time idea! You'll pass out bells and rhythm sticks or mix it up with other instruments and have fun making the music come to life!
8. A Child's Prayer – Dropped Pictures
For a no-prep singing time, you'll love introducing this song with our A Child's Prayer Dropped Pictures singing time lesson plan! It's a fun way to get the kids involved helping you put the words back in order with a simple no-fuss activity.
17 More Different Ways to Teach A Child's Prayer
For those that are looking for even MORE ways to teach A Child's Prayer in Primary this year, I am sharing my very favorites from other Primary chorister / music leaders to help you fill your Primary room with this beautiful song!
1. A Child's Prayer – Hand Bells
A Child's Prayer is included in Merry Bells Primary Songs set #1. This is a really fun and unique way to introduce the song using handbells!
Save on Merry Bells printable charts and bells with a coupon code just for my readers! Just add PrimarySinging coupon on the cart page to save 10% off your purchase.
If you'd like a little more control, and flexibility, head over to see our Hand Bell Music Note Cards that let you turn ANY song into a hand bell chart easily!
2. A Child's Prayer – Special Arrangement
I love using a special arrangement of the song to help bring in the Spirit and help it touch the children's hearts! It always makes the song extra special and deepens their spiritual connection to the meaning of the song. Here's my favorite I'll share with you here.
The first is the One Voice Children's Choir performing A Child's Prayer. They are always a treat to listen. This video clip actually has a tie-in to the Cokeville Miracle movie, which was a tear jerker!
3. A Child's Prayer – Dance Scarves
I love these Dance Scarves Heidi came up with and you'll spot my dance scarves cards in action!! If the video here doesn't load, you can watch it on YouTube here.
I use dance scarves all the time they're SO much fun to bring into your Primary! Pick up a set of Dance Scarves from Amazon here. Plus, to help you easily come up with your own Dance Scarves movement patterns, head over to grab my Dance Scarves Movement Cards.
4. A Child's Prayer – History of the Song
To add great insight and background on the origin of the song, you can see this fun interview with Janice Kapp Perry where she explains where she got the idea for the song and some interesting trivia about how the song was shaped into what it is today!
What's really interesting, is she say it's been her favorite song she's ever written!
5. A Child's Prayer – Puzzle Matching Game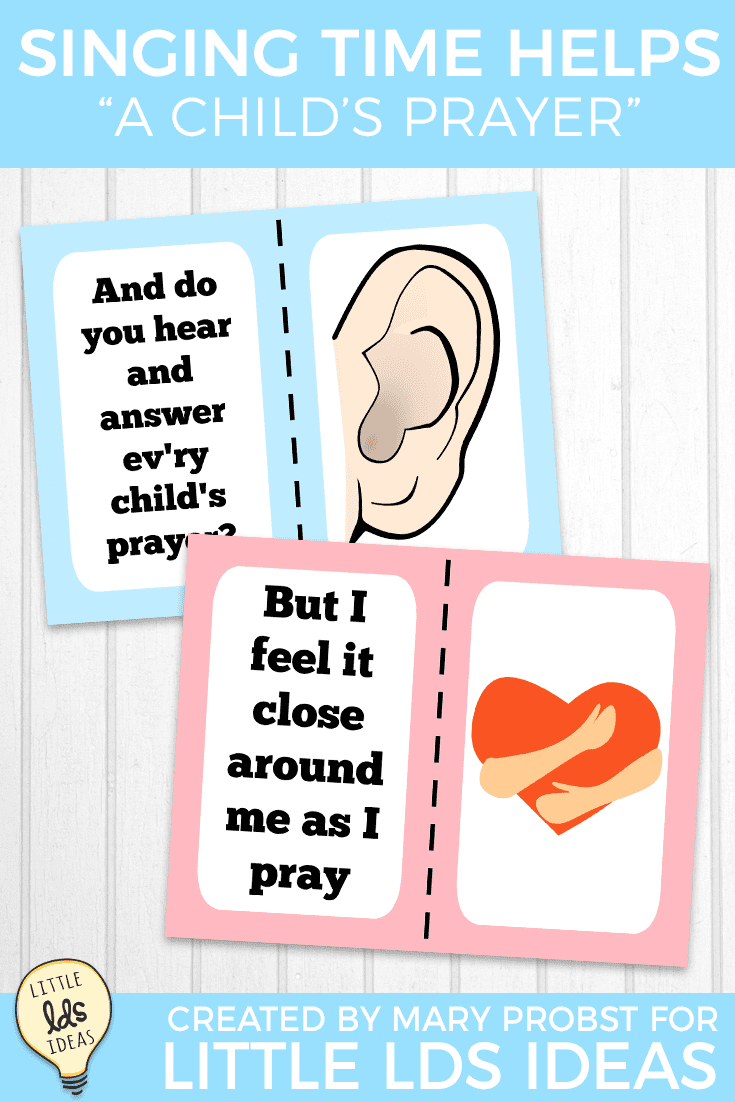 Use these 2-piece puzzles to help match a picture with the lyrics as you teach this song. For an added challenge, have a child help get them all back in order while the Primary sings, then mix them and start again. Head here to see the idea on Little LDS Ideas blog.
6. A Child's Prayer – Paper Plates Patterns
For a fun way to teach this song, you can pull out your paper plates stack with these 4 patterns to choose from! Here's the first simple pattern for Younger Children, but you can see all 4 of the A Child's Prayer paper plates patterns here.
7. A Child's Prayer – Magic Marker Shapes
Follow along with this sister's simple application for using an imaginary marker and different shapes as you teach A Child's Prayer in Primary Singing Time. You can view her video here if it doesn't load.
8. A Child's Prayer – Sing Along Phone
This sister shares how to make a fun and easy phone with PVC pipe and let them hear their own voice while focusing on the concept of prayer being like a telephone! View her video here!
9. Egg Shaker Melody Map (YouTube)
10. A Child's Prayer ASL (YouTube)
11. A Child's Prayer Song Video on Church of Jesus Christ website (Downloadable!)
12. Rhythm Poster board (Teaching Primary Music)
13. Echo Singing (YouTube)
14. Piano Solo Arrangement (YouTube)
15. Keyword Picture Signs Video (YouTube)
16. Singing Styles sing-along video (YouTube)
17. Magic Crayon (YouTube)
What other fun ideas do you have for teaching A Child's Prayer in Singing Time?
This post may also be available in:
English
Español
Join INSTANT Primary Singing today for immediate access to monthly printable singing time ideas!