If you're looking for a fun way to sing the program songs over and over across a few weeks until they're just right, you'll love all of these fun themed Primary Program Review Ideas to pick from!
There's a little bit of everything mixed into this list with ways to earn treats for after the Primary Program presentation, sporty themes to engage those stubborn backrow boys, and even ideas to get the bishopric or Primary Presidency involved!
I can't wait to hear which is your favorite idea as a music leader to review all the Primary Program songs or other themes you've used in the past! Bookmark or pin this post so you can easily find all these ideas next year, too!
23 Primary Program Review Ideas
I specifically looked for themed Primary Program review ideas that would work with a variety of different songs and work for 1-3 weeks so you can carry them over to work towards a goal or use it in just one week, if that's all the time you have!
Make sure you visit the original link for each of the ideas if you need more details and the original instructions! You'll be so happy you spent a week or two focusing on getting the songs just right when it's time for the actual program!
It's a great lesson plan for right after a stake conference to get the kids back in the swing of things or use as part of a regular Sunday singing time to keep the kids attention! The foodie ones below will be a great motivator!
Plus, head over to see our Music Practice Tracker for a cute way to encourage the Primary children to practice the songs at home to earn a reward in Primary!
1. Knockout Our Primary Program Boxing Review
Pair your primary songs in a head-to-head battle in this Knockout Your Primary Program singing time idea! You can spread it across a few weeks and let your perfect songs retire as you battle out all the kinks the few weeks before your presentation. This is one that will especially grab the senior Primary kiddos attention as they LOVE competition games!
2. Focus on the Savior Program Review
Use this cute camera themed singing time idea to add pictures for each song and talk about where to keep our focus during the Primary Program! This theme is PERFECT for the New Testament program year, but can work for any year. With a whole bunch of pre-titled and blank polaroid pictures ready for you to add your song titles! Head over to our Focus on the Savior Primary Program Review theme here.
3. Cut the Tie Program Review
For a really fun way to get your Bishopric involved or maybe the missionaries in your ward, have a fun Cut the Tie activity to review all of your Program songs! Just pick up an old tie or grab something from the thrift store or an old missionary's tie and the kiddos will absolutely delight in the thrill of getting to cut the tie!
4. Blown Out of the Water Program Review
Start with all of your song fish at the very bottom of the chart in deep water (but hopefully not deep trouble!) Then work your way up the chart with this Blown out of the Water Program Review idea! You'll help the Primary kids fix up any issues with the lyrics or melody until they blow you out of the water with their singing!
5. Football Primary Program Review
For a fun fall themed program review idea, see our Football Primary Program Review! This is a perfect theme to draw in the attention of those backrow boys that may be reluctant to participate and cheer on the songs as they make their way to the end zone before your Primary Presentation date!
6. Get the "Bugs" Out!
Denise DeMille came up with this SUPER cute themed activity to smash all the bugs in the Primary songs before your Primary Program. Isn't it darling! You can target specific songs in each of your program songs that you want to focus on such as a special descant or the lyrics of the 2nd verse or a specific line of the song, or even just increasing volume and confidence!
I made a cute printable version with Denise's permission you can grab over in this Let's Get the Bugs Out Primary Program review post.
7. The Song Monster Ate Our Primary Songs!
Bring in a paper shredder or just make a cute song monster and let the kids feed all the songs you've mastered to your song monster!! The kids will absolutely love passing off all the songs they know by giving them to the monster as a treat!
8. Primary Program Practice Box
Fill a box with a treat of your choice. Then, wrap a colorful ribbon to represent each song. When the kids perfect the song, they get to cut off the ribbon and are one step closer to the reward inside! See more details on Beehive Messages blog.
9. Mr. Potato Head
Look at this adorable Mr. Potato Head review game that Erika Blanchard shared on Facebook! You'll let the kids earn different pieces to decorate their potato heads as they perfect each part of being program ready like sitting nice and still with your feet on the ground and singing loud enough to be heard! You can head here to see the files Becca Olave shared in the Latter-day Saint Primary Chorister Facebook group.
10. "Chews" the Right Bubble Gum Review
This Bubble Gum Machine activity by Camille was the first Primary Program Presentation Review Game I ever did! The Junior Primary kids especially loved filling up the gum ball machine with sticker dots and it was a really adorable way to track our song progress!! Just grab a set of colorful stickers or all red stickers to represent your gumballs.
11. Emoji Primary Program Progress
Track your progress through your Program Songs review over a few weeks with this cute emoji idea by I Heart Primary Music. Pick out 4 emojis the kids can progress through and fill in the chart until all of the songs are presentation ready! Young children will easily be able to follow along with this very visual idea for tracking your songs!
12. Olympics Primary Program Review
Bring out the judges and give them a score from 1-10! Recruit your primary teachers to help! Can the kids help you get all the songs to at least an average of 8 points? Or how about a perfect score with all 3 judges holding up their 10 point card! See all the ideas for this Olympics Program Review here.
13. Are You Smarter Than a Primary Child?
Bring in some help with the Bishopric, Missionaries, or Primary Presidency and see if they can beat the Primary with some fun trivia questions about your Program songs and lots of song repetition! The kids will love outsmarting the adults. See this idea over on Richins Happenigs blog.
14. Primary Songs are a Treasure – Pirate Theme!
This treasure map is a wonderful way to move your songs up in progress over 3-4 weeks as you practice each of the songs with a different method until they all reach Treasure Island! Head over to grab the printables at Camille's Primary Ideas here.
15. Balloon Pop Program Review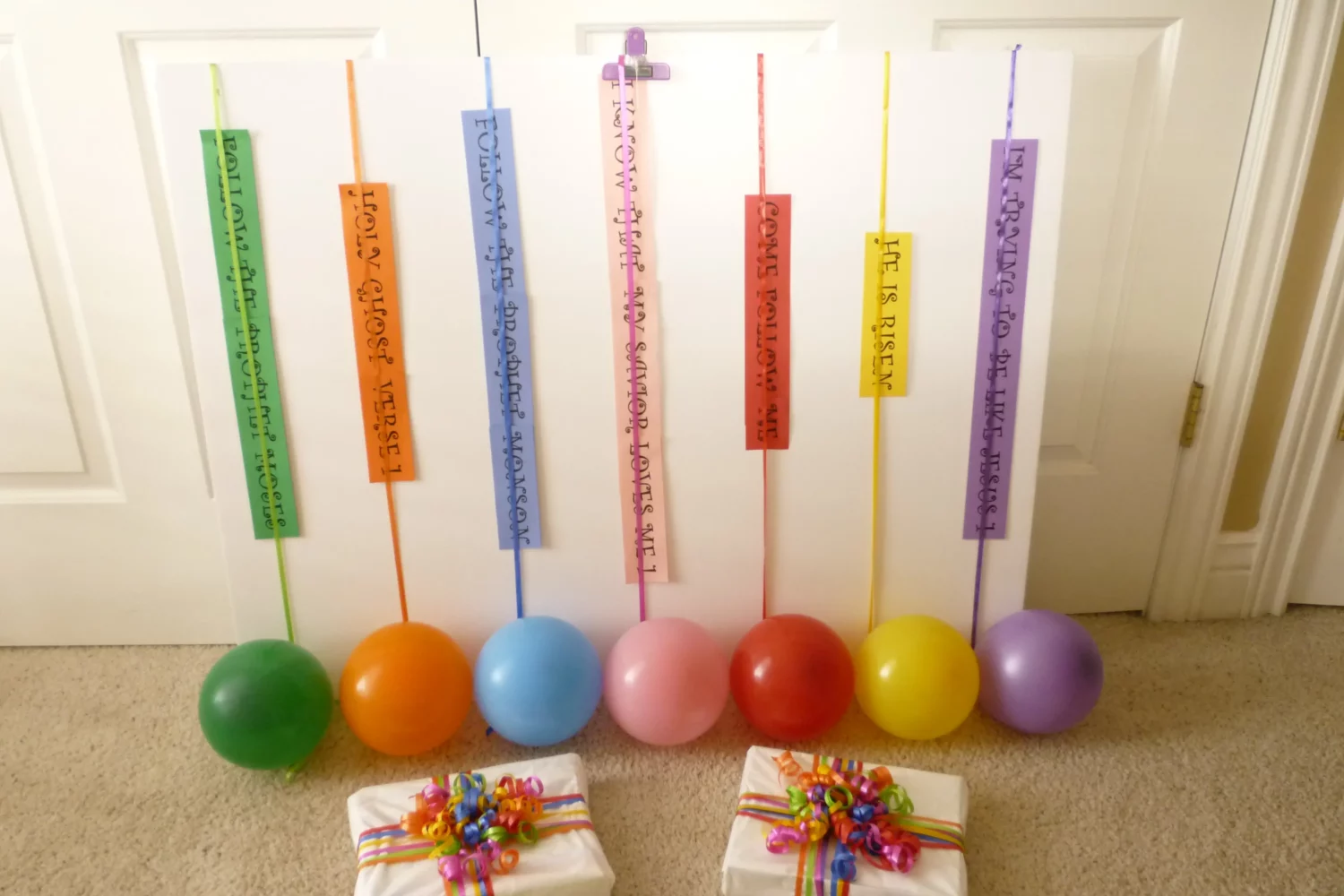 Your Primary children will be on the edge of their seats watching as their song balloons inch their way up this poster to where a needle is waiting to pop the balloon! Teaching Children the Gospel blog shows all the steps on how to make this work to pop the balloons.
16. "Fresh & Ready" Popcorn Themed Program Idea
Start with your songs in the popcorn popper until they're ready to go! I adore this cute idea by Cassie Becker (see her original idea here on Facebook) and popcorn is an easy and fun treat for after the program to tie in with the theme!
17. Primary's Got Talent
Bring in the Bishopric or get your Primary Presidency involved as a judging panel on your own Primary version of America's Got Talent! I love this idea that takes next to no prep by Katie Matteson. See her original idea and details in this Facebook post. The judges will vote until the kids earn all 4 "YES" replies for the songs being program ready!b
18. We All Sing for Ice Cream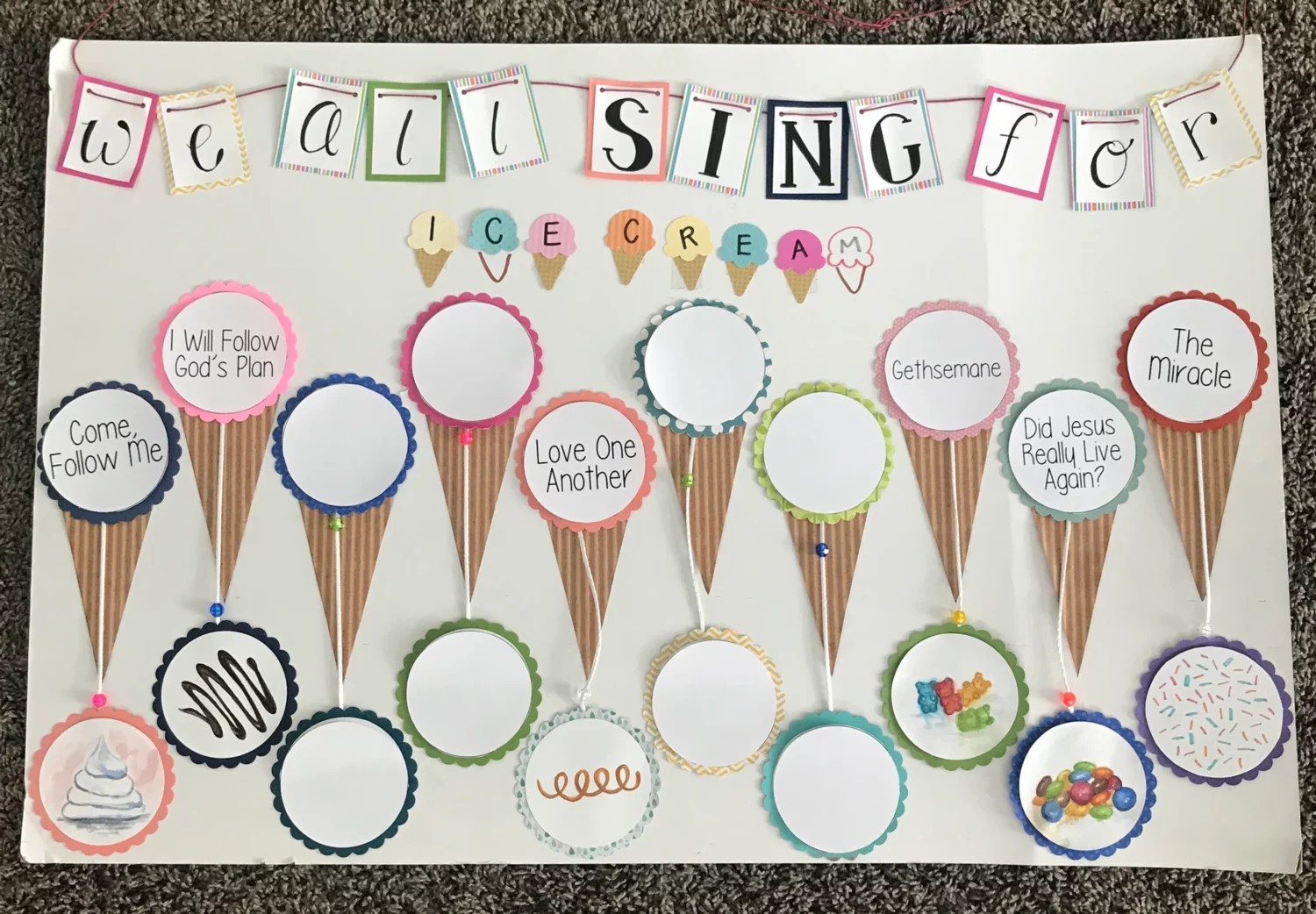 Look at this clever way to earn all your ice cream toppings while singing through your Primary Program songs! Just add your song titles to ice cream cones and then add the toppings once a song is crossed off as ready! See more details on Marci Preece Music blog.
19. Right on Target
Use this target practice program review idea by Teaching Children the Gospel to help you focus in on getting each of your songs just right! Use individual targets or one big target with arrows for each of the song titles! Post your target in the front of the room or spread them out all around your Primary rooms for a big effect that will be soooo fun for the kids!
Here's another take on this idea with this adroable Bulls-eye Program Review poster by Wendy Buchanan! See her original post here for more details.
20. Cookie Choir Primary Program Review Idea
Assign one ingredient from your cookie recipe to each of your Primary Program songs. Then, as the kids practice and perfect the songs, they earn the ingredient and ultimately earn a batch of homemade cookies after the Primary Program Presentation! See all the details on Hum Your Favorite Hymn blog.
21. Primary Program Pizza Party!
Have the kids earn each slice of a pizza and then have a big Primary pizza party with your Saturday practice or sometime the week following the Primary Presentation to celebrate all their hard work with a fun themed party. See all the details of this idea on Little LDS Ideas blog.
22. We Are On Fire
Look how creative this idea is!! Jo Lake shared this We Are on Fire theme that came from another leader in her stake and her amazing poster she created – complete with working thermometers that fill up to the top when the song is ready to go! See all the details in her Facebook post shared here.
23. Blast Off to our Primary Program
Olivia Snow shared her cute themed idea of an outer space "blast off" activity with cute moving rocket ships working their way to each of the planets as you chart their primary program song progress! See her full post on Facebook here.
Primary Program Cover Printables!
Another wonderful help to get you on your way is our printable files made specifically for your Primary Program Presentation! I've shared a free, editable set of files for the Come Follow Me years here:
Primary Songs to Include in your
Primary Program Practice
If you are in the early stages and planning out your year, you can head over to our index list of all the Primary Songs by Come Follow Me year to help you plan out which songs to include.
I like to talk with the Primary President at the very beginning of the year with a list of songs to focus on and any new song that will need approval. That helps me focus my efforts on the right songs and get a jump start on the learning process by being able to make a plan for my Primary singing time weeks early in the year!
Some favorite songs to include in a Primary Program are:
I Am a Child of God
If the Savior Stood Beside Me
I'll Seek the Lord Early
My Heavenly Father Loves Me
Tell Me the Stories of Jesus
I Will Follow God's Plan
Head over here to see the Old Testament list of songs!
MANY More Singing Time Ideas!
For TONS more Singing Time Ideas head over to see our landing page with more than 200 Singing Time Ideas for Primary Music Leaders!
What other fun and different ways to practice your primary program songs have you tried? We'd love to see your fun ideas! Share them in the comments to add to this list.