If you've seen any of my other posts about Merry Bells, you'll know they're my favorite hand bells! They are a great quality and with their printable bell charts all transposed to the key of C you can easily play Primary songs with just a set of 8 bells!
This post is for an affiliate. I may receive a commission on purchases at no cost to you.
Merry Bells App Now Available!
Now you'll be able to download the Merry Bells play along videos in a brand new format! They're is a brand new Merry Bells app available in both the Google Play and Apple app stores.
The app makes it easier than ever to play the play along videos! Just connect to a TV using chromecast (or similar) or using a cable and you'll be able to play the songs of your choice right from your phone to the TV.
It's also a perfect way to try out the Play Along videos as they are just $0.99 per song. You'll save by purchasing the Play Along DVD (30 songs for $15) or the download packs (10 songs for $8) but if you're just looking for a couple specific songs instead of the entire collection it can be a great option.
Merry Bells Hand Bells
If you're just getting started using Merry Bells for the first time, you'll want to pick up a set of their 8 bells. The collection comes in a nice storage box that is foam lined to protect the bells and carry handle.
I have both a set of Merry Bells and off brand Amazon bells and did a whole comparison post over here. I love my Merry Bells and they are great quality at an affordable price.
My favorite part of Merry Bells, though, is the easy access to playing a variety of Primary songs (and Hymns) without having to have a huge upfront investment in bells. All of the songs are transposed into the C Key so they can be played without needing sharps.
They offer both Play Along videos that are SO much fun and printable hand bell charts that let you play at your own speed which is perfect for learning the song.
Save on Merry Bells!
Plus, you can save 10% on your purchase of hand bells, the DVDs or digital downloads, or the printable charts using the exclusive coupon code: PrimarySinging
This coupon code, unfortunately, won't work on the Merry Bells app.
Where do I download the Merry Bells app?
The Merry Bells app is available in both the Google Play and Apple app stores.
Find it on the Google Play store here and in the Apple app store here.
What is in the Merry Bells app?
You'll find individual songs available for in-app purchase including all of the Merry Bells song collections:
Primary Songs Set #1
Primary Songs Set #2
LDS Hymns
Christmas Songs
Children's Songs
Patriotic Songs
These collections each include 30 different songs that follow the Merry Bells DVD collections and video download sets. I've shared a post with the entire list of Merry Bells songs here if you want to see what songs are included in each collection to see if the app would be worthwhile for you.
Each song is sold as an individual download so you can pick and choose which songs you want to purchase. They each cost just .99c plus applicable tax.
How do I use the Merry Bells app?
Browse through the song collections and select the song(s) you'd like to purchase. Complete your purchase as an in-app purchase. When complete, you'll be able to download the video files within the app and the files will be stored for use there inside the Merry Bells app.
To access your purchased songs, first click on the song collection and then toggle over from browse to purchased to see your songs already purchased.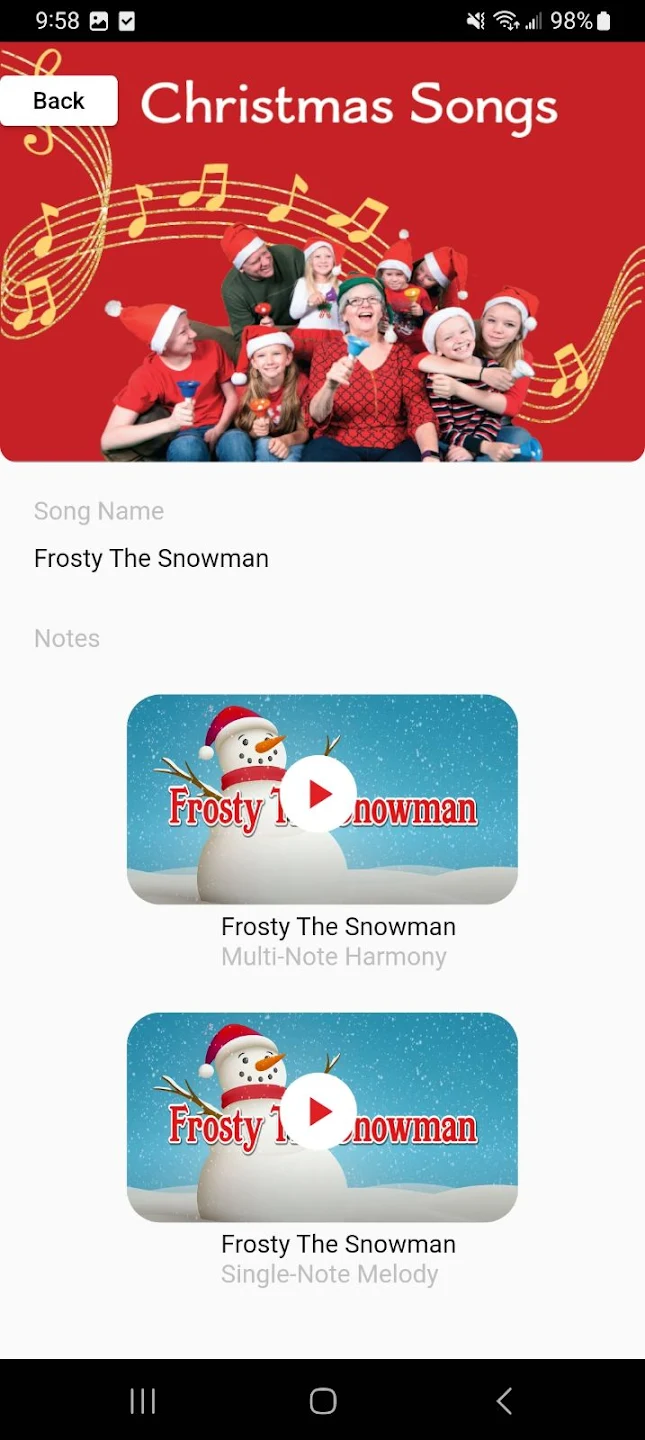 Click on the song you'd like to play and select the multi-note or single-note melody. The multi-note will be more challenging but is great for larger groups. Stick with the single-note option for smaller groups or younger children.
Connect your phone to a TV, if desired, using Chromecast, Apple TV, or simple use a cable to connect to your TV by USB.
Then start the video and have fun playing along with your Merry Bells!
Step-by-Step Inside the Merry Bells App
1. Download and open the Merry Bells app. You'll see a welcome screen. Hit the "Continue" button in the bottom right corner.
2. Scroll through the collections and select the category you would like to browse.
3. Select the song from the list of songs available and hit the red "Buy Now" button to make an in-app purchase.
4. Toggle over within the category to the "Purchased" tab. Here you will see the song list filtered by only the songs you have purchased so far. Select the song you would like to play.
You will see two video options – a Multi-Note Harmony and a Single-Note Melody.
The Multi-Note will have more than one bell playable at the same time following the music. This option is great for large groups and experienced hand bell players as there is more involvement!
The Single-Note melody will play only one note at a given time. This option selects just the notes of the melody. This option is best for smaller groups or when just getting started using the Play-along videos.
5. Select your choice of video to play. It will take just a few seconds to load. You can then choose to connect your phone to a TV using Chromecast, Apple TV, or any other method for connecting to your TV, if desired.
6. When you're ready to get started – just hit play! Get ready to ring along your hand bells with the song. You will play each note as it reaches the white bar at the bottom of the screen and can sing along following the karaoke style lyrics at the bottom of the screen.
Don't forget, you can save 10% on your Hand Bells purchase (and any additional items purchased) on the Merry Bells website using this exclusive coupon code for my readers! Just enter the promo code PrimarySinging at checkout!
No matter how you choose to enjoy playing Hand Bells with your Primary kiddos, I hope you give Merry Bells a shot! I think you'll find you love them as much as I do!
This post may also be available in:
English
Español
Join INSTANT Primary Singing today for immediate access to monthly printable singing time ideas!